New York Film Academy Course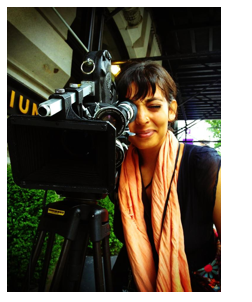 Seeta Patel travelled to New York to attend an 8-week film and digital course at the NY Film Academy.
"Though the course approached film-making from a very western/Hollywood perspective, I found it valuable to understand the fundamental principles of visual storytelling and feel that I can apply this to my dance and experimental film work. The tutors were all practising professionals and this really gave a very current and relevant approach to the ideas and methods they were teaching us, as well as a depth from their experience. Since completing the course I have already had two work opportunities that have included directing, filming and editing, both for dance and non-dance short films."
"I would highly recommend this course to those starting out within the medium of film. It is a costly program and living in New York has its challenges, but it was very much worth the commitment and effort, and I have left there feeling I have gained a lot of skills. Taking time away from your regular work can seem daunting, but I do feel it is important and can help with future decisions."
More about Seeta Patel's scholarship.
R & D Residency in Marseille
Lucille Teppa travelled to Marseille, France, to undertake a two-week residency with free studio space to research movement material for innovative choreography at Ballet National de Marseille.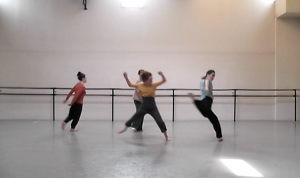 "In July 2014, I was invited to research a new choreographic work -­‐ Species of Spaces -­‐ which I initiated. The piece involves Eleven Farrer House's four dance artists. Species of Spaces is a choreographic project which has been gestating in my head for a long time."
"Overall these two weeks of work turned out to be a major experience which enhanced my personal, professional and artistic development, while strengthening Eleven Farrer House as a creative group of early career dance artists."
Work in progress video link:
http://vimeo.com/103575632
More about Lucille Teppa's scholarship.
'Axis Dance Company Summer Intensive'

Clair Beckett travelled to Oakland, California to work with Axis Dance Company to learn more about developing technique for inclusive classes that can physically challenge all participants.

"My passion as a dance artist is to utilise my background and training to open doors for people interested in dance regardless of disability and to provide dance opportunities that equally challenge the mind and body."

More about Clair Beckett's scholarship

Follow us on Facebook